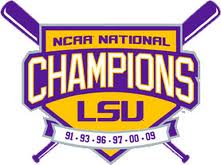 Number one ranked LSU and Texas A&M played another classic college baseball game on Friday and for the second straight night the Tigers came out on top. The Bayou Bengal bats erupted for four runs in the 7th inning to erase a three-run deficit and claim a 9-6 victory over the 2nd ranked Aggies.
The win clinches a series victory for LSU and they'll go for the sweep Saturday afternoon at 1 PM.
LSU trailed 5-2 going into the bottom of the 7th inning. Chris Chinea started the rally with a single up the middle. Jake Fraley followed with an infield single. Jared Foster then singled to right field to score Chinea and put runners at 1st and 3rd base. Chris Sciambra then laid down a safety squeeze to score another run and that set-up the at-bat of the game.
Alex Bregman came to the plate with one out and runners at 1st and 2nd. Bregman battled Aggies pitcher Mark Ecker and on the 10th pitch of the at-bat, the Tigers star shortstop hit a shot down the left field line to score both runs and give the Tigers the lead.
LSU scored three more runs in the 8th inning. Chinea had an RBI double, Fraley had an RBI triple and Jared Foster scored another run with a ground out.
The Tigers finished with 14 hits, Fraley led the way with three hits.
LSU's offense bailed out Tigers staring pitcher Alex Lange. The freshman allowed 5 runs in 5.1 innings as he walked 5 and gave up 8 hits.
Russell Reynolds did a nice job out of the pen to get the win. He kept the Tigers in the game, until the bats could get going. Reynolds pitched an an inning and two-thirds, without allowing a run and striking out two.
Hunter Newman earned the save as he allowed one run in two innings.