Gover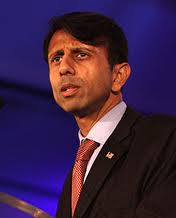 nor Jindal has filed a lawsuit against the federal government alleging the Obama admin
istration violated the Constitution by using federal grant money to force states to adopt the Common Core education standards. Jindal says Common Core is the latest effort by the feds to have Washington D-C in control of everything.
"The federal government in Washington is out of control and now they want to run our schools."
Jindal says the Constitution and federal laws leave it up to the states to control education content, but through Common Core the federal government can dictate curriculum.
"The know-it-alls in Washington think they know better than Louisiana parents, kinda like with Obamacare, when they tried to put the IRS in charge of our health care."
Jindal, a one-time supporter of Common Core, has taken steps this year to keep the new math and english standards out of Louisiana. US Education Secretary Arne Duncan has said Jindal's actions are about politics, not education