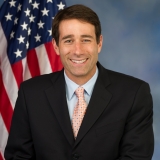 US Representative Garrett Graves of Baton Rouge toured the flood devastated areas of the state with Florida Congressman John Mica, and Mica then criticized FEMA for being slow to get people into temporary housing units. Graves says they understand there are 1,300 FEMA manufactured homes available around the country, but as far as he knows only one has been set up in Louisiana.


"He was wondering why anyone was in a shelter, why anyone would still stay with friends or relatives if there were other alternatives that could be provided to these folks," Graves said.
Graves says he is not pleased that FEMA won't let people set up the manufactured homes in their yards if they're in a flood plain.
"FEMA should have some type of system where they can elevate these manufactured housing units in people's yards and not send them off to some trailer park," Graves said.
Graves is also not happy that the largest FEMA payment he's heard of being awarded is around $8,000, and the max is $33,000. He says FEMA needs to be respectful of the fact that some of these flood victims just lost everything.
"Many of these people's entire lives are on hold right now because they don't have any idea where they're going to live, what they're going to do, how they're going to pay for refurbishing their house, addressing the fact that they don't have cars or clothes or whatever else," Graves said.