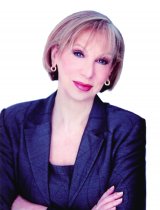 Dr. Joy Browne
Dr. Joy Browne is America's leading radio psychologist. At almost 15 years on WOR Radio, the show is the longest-running of its kind. Her show consists of listener phone calls, where Dr. Joy helps you navigate your personal problems — everything from kids to sex to family relations to workplace issues – you name it! Despite the occasional embarrassing question, Joy never fails — no topic is too racy for her!

A Ph.D. graduate from Northwestern University, Dr. Joy has been helping radio listeners since 1978. Her numerous awards include: American Psychological Association's President's Award and The Talkers Magazine award for Best Female Talk Show Host (two years in a row). She was also listed as #10 on the list of the 25 Greatest Radio Talk Show Hosts of All Time, and has been named one of the 100 Most Influential Talk Show Hosts 10 times. Dr. Joy has also been nominated for News/Talk National Personality of the Year as well as Syndicated Talk Show of the Year by Radio & Records Magazine. Her books include It's a Jungle Out There, Jane, Dating Disasters, Getting Unstuck, The Nine Fantasies That Will Ruin Your Life, and the newly-updated Dating for Dummies.
On-Air Schedule
Monday
08:00pm - 11:00pm
Dr. Joy Brown
Tuesday
08:00pm - 11:00pm
Dr. Joy Brown
Wednesday
08:00pm - 11:00pm
Dr. Joy Brown
Thursday
08:00pm - 11:00pm
Dr. Joy Brown
Friday
08:00pm - 11:00pm
Dr. Joy Brown
God Bless America & Our Home Louisiana !
Weather data currently unavailable.
Now On Air At 100.3 HD2
Or Click The Logo Above
To Listen.
All Weekend Long
It's a
Political Free Zone!
Kim Komando, The "Weekend" Roundup, Leo Laporte (The Tech Guy!), Art Bell, The Real Estate Show, Bill Handel, Chef John Folse "Stirin' It Up" , Doug Stephan's Weekend, The Pet Show & When Radio Was!.
Rudy Maxa's World
Now A Full 2 Hours
Saturday 12 to 2p
Dr. Ronald Hoffman
Intelligent Medicine
Saturday 2 to 4p