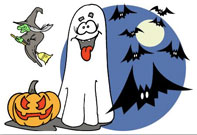 A recent survey by the National Retail Federation shows a record number of Americans will buy Halloween costumes this year. NRF Senior Director of Media Relations, Kathy Grannis, says Halloween has become much more than a child's holiday.
She says adults are really getting into the holiday.
"Throwing parties and dressing up in costumes, themselves. We think that part of that growth among young adults, and even adults and parents, has helped propel the popularity of Halloween."
The survey says more than two-thirds of Americans will buy costumes this year and the average person will spend $77.52 for the holiday. Grannis says people are spending money on more than just costumes and candy.
"Even activities like going to a haunted house or a corn maze - spending on Halloween is a lot more than simply getting dressed up to go trick-or-treating."
She says Americans will spend a total of $7.4 billion this Halloween. Grannis says popular kid's costumes will be Disney Frozen characters, Teenage Mutant Ninja Turtles, and super heroes. She says adults will keep it more traditional.
"Like witch and pirate, but of course thanks to pop culture references, from Breaking Bad and Game of Thrones, we think there will be a lot of really great Hollywood and other pop culture references this Halloween, as well."