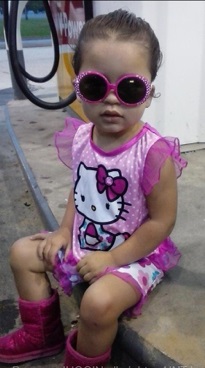 Michelle Southern reporting.
The Baton Rouge Police Department says the missing two year old girl, whose mother was located murdered Saturday, has been found safe. Corporal L'Jean McKneely says A'Kyleana Latham, or AK as her family calls her, was discovered alone.
"She was dropped off at a particular location and at that location is when police was notified," said McKneely.
McKneely says the child's father, who is from Texas, is now in town and the little girl will probably be released into his custody. He says they do not believe AK's dad is a suspect.
"And we actually have talked with him," said McKneely. "We are going to continue to look at all avenues."
McKneely says the little girl's mother, 24-year-old Taylor Latham, was discovered shot and killed inside a vehicle on Monday. He says they are thrilled AK was found but this investigation isn't over.
"We're looking into all of that, who dropped her off, who killed the mom," said McKneely. "So we are asking the community to give us a call if they have information."