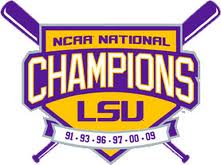 LSU Baseball Coach Paul Mainieri says sophomore left-hander Jared Poche will start opening day on February 13th against Kansas, but he's not sure on what the rest of his starting rotation will look like. Mainieri says he has several freshmen to choose from and the situation will play itself out during the non-conference portion of the schedule.


"They may all be good pitchers, but one guy may show a particular strikeout pitch, which make may him a better closer than someone else," Mainieri said.
Right-handers Alex Lange, Jake Godrey and Doug Norman, along with southpaw Jake Latz are four freshmen pitchers that Mainieri will count on this season.
Mainieri has confidence he'll strong staff by the end of the season, because of pitching coach Alan Dunn.
"If they keep improving at the rate, that I've seen so far, they are going to be special," Mainieri said.
Poche was a weekend starter last season and a Freshman All-American. The former Lutcher standout is one of eight returning pitchers and he likes what he sees from the young arms that have joined the team.
"Sky's the limit, with these young guys we have coming in. These guys have a lot of talent, it's just a matter of them adjusting to college," Poche said.